People Smarts
(Interpersonal Intelligence)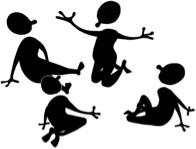 People Smarts refers to the ability to understand and work with other people. People who enjoy using their People Smarts may like to people watch, make new friends, participate in sociodramatic play, work in groups, or help others.
Check out these resources and many more at the BU Toy Library!
Other People Smart Resources:
Doing Good: Bloomsburg highlights the many different ways that young people can help others in our community. The booklet inventories local organizations that welcome children and youth as volunteers as they attempt to meet some of the needs of our community. The regularly updated booklet also offers a list of websites that include ideas for young people's own service projects as well as lists local schools, faith-based organizations, fire departments, and parks that might benefit from children's and youth's Good Work.